Violin | Viola
Acoustic | Acoustic Electric

Yamaha Guitars
Tanglewood Acoustic Electric

Electric Guitar

Fender
Squire By Fender
Ibanez Guitar
Other Guitars

Bass Guitar
Guitar PickUps
Guitar Effect Pedal

AMT Electronic
BOSS
Behringer
Line6
MXR | Jim Dunlop
ZOOM

Vocal Processor
DI-BOX
Accessories
Acoustic Amplifier
Keyboard Amplifier
Guitar Amplifier
Bass Amplifier
Brass & Woodwind Instrument
Electronic Wind Instrument
Drums
Snares
Percussion
Drum Hardwares

Snare Wires
Drum Equipment Stands
Drum Heads

Cymbals

Zildjian Cast Cymbals
Meinl Cymbals
Stagg Cymbals

Drum Pedals
Drum Sticks
Phrase Syntheziser | Sampler
Keyboards | Digital Piano | Synthesizer
Keyboard Controller
MIDI Interface | I-Phone Interface | I-Pad Interface
IK Multimedia / iRIG / iKLIP
Mini USB Mixer
USB Microphones
Microphones

Audio Technica
Behringer
Samson
AKG

Wireless System
Ear Monitor
Personal Monitor
Recording

Sound Card & Audio Interface
Handy Recorder
Control Surface
Pre Amplifier
Compressor Limiter

Nearfield Monitor
Recording System
Headphones
Mixers

Allen&Heath Mixer
ALTO
Behringer
Soundcraft
Mackie
YAMAHA

Video Mixer
Signal Processings

Behringer
dBX
Mini Signal Processing

Power Amplifier

Biema
Behringer
Samson
YAMAHA
Crown

Speakers | PA Speakers

Beta3 (β3)
Behringer
dB Technology
FBT
Electro Voice
JBL
RCF
Samson
Studiomaster
YAMAHA

Active Speakers
Pasive Speakers

Speaker Component
TAPE & CD Player
Portable PA
Cables
10 Juli 2013
Roland Backing Keyboard BK-9
Roland BK-9 Backing Keyboard For a few years now Roland has been producing instruments like the BK7, BK5 and now their new flagship arranger – the BK9. BK indicates the instrument is a "Backing Keyboard" and this is the market that is ideally suited for this instrument. 
The first think you will notice about the BK9 is the 76-note keyboard and super lightweight construction. If you are looking for an instrument to gig with then BK9 is perfect. This is the first keyboard I've been able to pick up with just one hand and not just a 5-octave keyboard either! 
You would think that being so light, the build quality would suffer in some way, but no, the BK9 is beautifully constructed and the keyboard as a great feel to it. For this feature alone the keyboard gets a big 10 out of 10 – as it really is a pick up and go instrument.
detail
25 September 2012
Presonus Digital Studio Mixer Live16.4.2
Presonus Digital Studio Mixer Live16.4.2 Mixer Digital dan Konverter AD/DA Mixer Digital Studio Live 16.4.2 keluaran Presonus terdiri atas 16 chanel yang dilengkapi dengan 4 group output dan sebuah master output (stereo). Studiolive tidak hanya berfungsi sebagai mixer digital untuk aplikasi panggung, peranti ini juga berfungsi sebagai konverter AD/DA yang digunakan untuk aplikasi rekaman.
detail
» index berita
Wahyu
Terima kasih atas kiriman barangnya, sudah sampai dan kondisinya memuaskan, kardus mulus tidak ada penyok dan dipackaging kayu lagi. Recommended. Walaupun ada harga yang belum terupdate tapi bisa di ...
detail
Agus Luqman
Agak khawatir juga sebelumnya dikirim apa ga ya barangnya maklum transfer jumlah jutaan rupiah.Sebelumnya mau beli dari singapura lewat amazon tau tau barang ada di beli alat musik.com harga ga beda j...
detail
Hamzah Salam
Senang bisa nemuin belialatmusik.com karena rencana ganti equipment electone saya.
» isi testimonial
» lihat testimonial
IK Multimedia / iRIG / iKLIP

»

iRig Pre Universal Microphone Interface
iRig Pre Universal Microphone Interface
Hook Any Professional Microphone to your iOS Device
Here's how you use it: Take the microphone you use every day on stage or in the studio and plug it into your iOS device. It's that simple. Need Phantom Power? Flip the "Phantom Power" switch. Congratulations, you've just become a professional user.

This is perhaps the most important product introduction for musicians and the rest of the civilized world since the iPod and iPad. Now, thanks to the iRig Pre, you can hook your favorite microphone to your iOS device and join the mobile music revolution. Create music any time, anywhere with your own high quality microphones on your iPhone, iPod touch or iPad.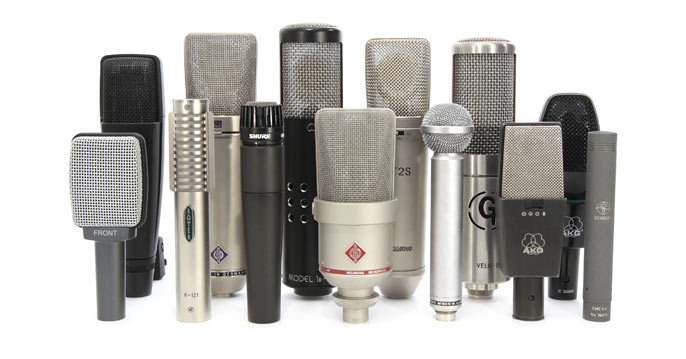 So now if you want to record that special riff using your own ribbon microphone and mix it on your iPhone, you can. Simply plug the iRig Pre into the headphone jack of your iOS device, activate phantom power if necessary, launch your recording software and wail away.

Hey, is that a Preamp in your pocket?
Why yes, as a matter of fact it is! The iRig PRE sports an ultra-compact design so it fits pretty much anywhere. Just slightly larger than a 9 volt battery, you'll be amazed at how quickly you'll misplace your iRig PRE. But don't let the small size fool you. iRig Pre is a professional sounding mic preamp that will dazzle you and your friends.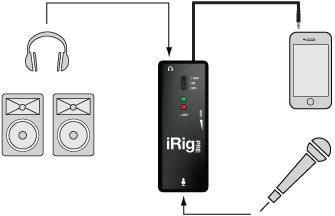 Phantom of the iPad
The iRig Pre has a 48v Phantom Power feature that lets you use your favorite condenser microphone with your iOS device. But don't worry… the phantom doesn't eat your device battery, it takes a standard 9v. No longer are you shackled by the chains of passive microphones for your mobile recordings. Now inject the shocking awe-inspiring power and clarity of the ever popular Condenser microphone into the lifeless muddy world of "a.m. radio" sounding recordings. You'll be the hero of the entire civilized recording world when you unleash the beast onto unsuspecting virgin ears, now thanks to the technological marvel that will become known to the rest of the world as iRig Pre, but you saw it here first.
Oh, and you can plug a SM58 into it and sound like your fabulous normal self as well. Cool.
Hear Yourself over the Drums
The iRig Mic Pre features a 3.5mm headphone out that allows you to monitor the processed sound… however you sound. So now you can finally tell if you're "Idol" material.
40cm of "Micabular" Awesomeness
Unlike some other mic cable companies, we provide you with an astonishing 40cm (that's like 15.75") of space to place your device. So if you want to Velcro your iRig Pre to your mic stand and use the iKlip Mini to hold your iPhone, you can. And with total peace of mind. Rest assured, you're secured. However, if you Velcro it to the singer's pants, you're on your own. Sorry, that voids the warranty.
2 Free Apps ready to go
In addition, you can download from the App Store two free apps to get started recording and "effectualizing" your voice: iRig Recorder FREE, a simple-to-use waveform recorder and editor, andVocaLive FREE, our premium live vocal effects processor.
Features:
40 cm (15.75") TRRS cable to connect

to any iOS device headset jack

XLR input connector for microphones

Gain control

+48 V phantom power

Headphone output

On/Off switch

Power/Phantom Power provided by 9V battery

Battery life is approximately

30 hours with dynamic microphones

and 10 hours with phantom powered condenser studio microphones

Download 2 free apps from the App Store:

- iRig Recorder FREE, an easy-to-use voice recording/editing app,
- VocaLive FREE, a multi-effects processing app for singers.

Compatible with iPhone/iPod touch/iPad.
Bank Central Asia
A/n Ester Idawaty
No Rek : 126-0494500